Your Job Alert has been created successfully!
Matching jobs will be sent to MANAGE JOB ALERT
Home› UAE Companies› Dubai Companies› Recruitment / Placement Firm / Executive Search Companies in Dubai› Apt Resources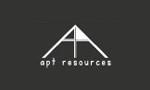 Apt resources is a well-known name in the Dubai's recruitment industry and is known to make companies meet their skill gap successfully. In to the business for more than 25 years, the recruitment company has been serving its clients successfully and has been making use of its huge database to find the right candidates for the catered companies. apt resources not only sends the candidacies to the given company but also opt for different medium for conducting interviews and conversations like webinars and video conferencing.
apt resources not only make companies and candidates reach out to each other but also offers services like face-to-face discussions and CV related services. This enables a job seeker to have a stress-free and easy employment search and companies also get to hire efficient people. Apart from this, a job seeker can access the online services offered by the company and can register himself so as to get the desired job alert and notifications.
Read More
2 Jobs in "Apt Resources"