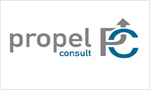 Established in 2009 by Barry Prost and Jamie Groom, Propel Consult provides a broad range of high quality recruitment and management consultancy services to employers in the Middle East. The company's professional services focus on these distinct specialist divisions:
- Oil & Energy
- Construction & Engineering
- Human Resources
- Banking & Finance
Originally established in Ireland, the company is headquartered in Bahrain, which is also its centre of excellence for the region to facilitate the retention of corporate standards, culture and values. The company's mission is to add value to its client organizations by continually delivering the best quality human resource solutions that save both money and time. Its range of services includes:
- Database Search
- Structured Interviewing & Selection
- Ancillary Consulting Services (Exit Interviews & Salary Surveys)
- Managed Advertising Assignment
- Integrated Project Management
With a team of over 100,000 employees that include highly experienced, dedicated and qualified professionals, Propel Consult is always on the lookout to hire the top talent for different positions and roles.
Read More
Currently, there are no
Jobs in propel consult